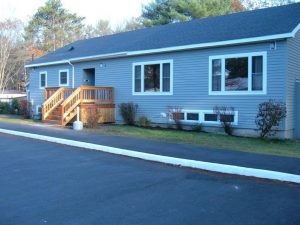 The Community started as Heritage Village back in 1968, then acquired by American Mobile home Corporation from California. AMC built the Community in two Phases, on a total acreage of 83 in Gorham, with 9 acres in Scarborough which was restricted for the water system.
Phase I opened in November of 1970 with 149 sites located on the east side of the Central Maine Power right of way. Phase II located on the west side of the right of way, (except 4 sites on the east side) consisted of 151 sites, Clubhouse and wastewater plant opened in the summer of 1973. In 1985 Maine Mobile Homes LTD added two additional sites in the Phase II section.
The Friendly Village community is currently owned by Maine Mobile Homes LTD has owned this property since 1982. The attractively landscaped lots that are roughly 5000 square feet are nestled within landscaped common areas. There is a yearly repaving schedule to manage the paving of the roads and driveways of the community, to keep them safe and well maintained. Speed bumps keep the traffic speed down for safety measures so residents and children can walk and play without worries.
Phase I uses sub surface disposal systems for handling the wastewater at the pad. Each site has its own septic tank and disposal field mostly consisting of a 1000-gallon septic tank with a stone and pipe field. Phase II originally had a wastewater plant with an overboard discharge to the South Branch stream. In 2005 the plant was replaced with a state of the art – Septitech system with a stone and pipe disposal field, about the size of a soccer field.
The Clubhouse/Office building is centrally located for ease of access to the residents of Friendly Village. The Clubhouse has a function room, full kitchen and restrooms and is available for private parties and functions free of charge for residents. The heated swimming pool and adjacent playground are another perk for residents of the community. The Clubhouse had a major upgrade in 2011 / 2012 with 18 inches of insulation added to the attic space. All windows were replaced, new cedar siding, PVC trim along with an 8 X 10 cedar deck. Interior improvements included new carpeting, tile flooring, water saver plumbing products and rest room renovations. The Clubhouse kitchen had a major facelift in 2018, with new cabinets, appliances and new flooring and paintjob on the rest of the interior.
The community's two cluster mailboxes at each side of the park for residents to pick up their mail. The park offers daily pickup and disposal for large items for a nominal fee per item. Free limb/brush and bagged leaf pick up is available to residents.
Friendly Village consisted of 302 sites nestled in groves of beautiful hardwood and evergreen trees. We enjoy quiet neighborhoods and often have visits from wildlife. Lots are fronted by fully paved and lighted streets, many of which are quiet cul-de-sacs. A professional, on-site management team keeps the village in A-1 shape and offers maintenance and service to residents. Our community is located just off State Route 22, and directly off Hodgdon Road in Gorham.
We are five miles from Gorham Village, the town is in Cumberland County, Maine the population was 16,381 in the 2010 census. Gorham is a quiet rural community located about 15 miles from Maine's largest city, Portland. The town still has the small-town feel, and you will see historic homes on tree lined streets. Gorham Municipal Center is in the historic Gorham High School building once home to high school and junior high students in the town. Gorham is home to one of the University of Southern Maine campuses, and it is well known for having a wonderful school system. Gorham has several farmer's markets for fresh produce sales in season as well as orchards for apples, blueberries etc for pick your own.
Portland is home to the premier teaching hospital, Maine Medical Center that can take care of your healthcare needs. Mercy Hospital Quick care is just 2 miles from the community for your minor healthcare emergencies.
Portland is just fifteen miles away, it is Maine's largest city, but still has Maine charm. There is a working waterfront, filled with shops and award-winning restaurants offering a wide variety of cuisine. Old Port area of Portland is known for wonderful hand crafted and Maine themed merchandise.
Residents have the best of all worlds by being an easy commute to work or the drive to the beach and lakes in the area. Pine Point Beach, in Scarborough and Sebago Lake, in Standish are both ten miles from Friendly Village of Gorham. The Maine Mall shopping area in South Portland is just 8 miles away. Friendly Village of Gorham is located in the center of all of your needs and wants, beach & ocean, lakes & streams and hills & mountains.
Our Water Supply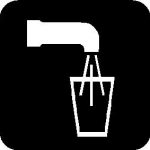 Our water supply comes from our own private wells on site and provide our residents with pristine, safe, great tasting drinking water. We are classified as a public water system and regulated by the Safe Drinking Water Act and Maine Drinking Water Program. We have an onsite licensed water operator.
We have won the Maine rural Water Association's award in 2005 for "Best Tasting Drinking Water" in the Non-Disinfected Division. We are happy to provide annual Consumer Confidence Reports for our drinking water.